SEABOURN: AN OPULENT ADVENTURE AHEAD
SEABOURN: AN OPULENT ADVENTURE AHEAD
EXTRAORDINARY EXPERIENCES
Our intimate ships travel to the most sought destinations across the globe, cruising towards the heart of historic cities as well as to undiscovered jewels that larger ships can't reach.
Our ships captivate incredible people who want to share extraordinary experiences in exceptional places. Our renowned crew provides a one-of-a-kind brand of heartfelt generosity that is genuine, attentive, and personalized.
Seabourn was the first to introduce small-ship, ultra-luxury cruising, and it continues to be the apex of that special type of travel. During seasonal peaks, our fleet of compact, all-suite ships, each accommodating 458 to 600 passengers, sails to the world's most popular locations. Seabourn's signature style of insightful, personalized, and poignant hospitality is delivered by an award-winning crew that numbers nearly as many as the guests onboard. The crew is hand-picked and thoroughly trained to ensure Seabourn's signature style of thoughtful, personalized, and heartfelt hospitality. The ships of Seabourn entice talented people who like traveling well and exchanging excitement and experiences with others. Many of them have discovered that cruising with Seabourn is their preferred mode of transportation, and they return to sail with us on a regular basis. We'd love the chance to see if that's the case for you.
SOPHISTICATED – LIKE NO OTHER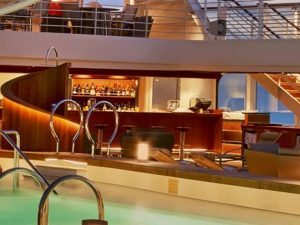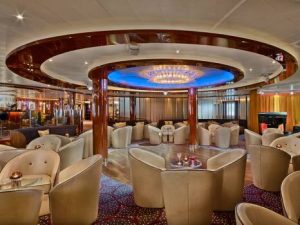 The exquisite cruise ships of Seabourn invite you to explore exceeding your wildest dreams. Every want is granted efficiently and with a friendly grin onboard Seabourn. When you sail on these premium cruise ships, you'll feel like you're a part of a very exclusive club, whether it's a cozy duvet and a cup of exquisite hot cocoa while you drift around the Norwegian Fjords on a small ship cruise or a peaceful neck massage poolside. Every small ship cruise features all ocean-view suites, beautifully decorated cabins, an open bar policy providing luxury wine, champagne, and beverages, and a world-class fine dining restaurant complemented by a gourmet relationship with Chef Thomas Keller.
Your Personal Suite Host and Suite Attendant is one of the most delightful and generous features of your suite. You'll notice that they have a genie-like sense of what would please you. They may recommend providing you a Pure PamperingSM bubble bath or assisting you in arranging an in-suite cocktail party after welcoming you with a warm grin and a glass of Champagne. It's possible that one of your best recollections of your trip will be their professional, caring care.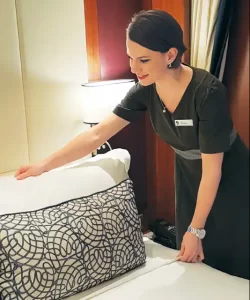 UNRIVALED DINING EXPERIENCE
Seabourn's award-winning food begins with the highest quality ingredients, which are then imbued with unique regional flavors and prepared à la minute by our expert chefs and presented with passion.
Each Seabourn ship has a variety of dining options to fit your mood, and almost all of them are fully accessible, allowing you to dine anywhere, whenever, and with whom you like. Lunch and supper are served with complimentary premium wines, and there is never an additional charge for any dining option. With our compliments, you really can enjoy the food in your suite or on your balcony.
Seabourn is a proud member of the Chaîne des Rôtisseurs, one of the most prominent gastronomic clubs dedicated to the art of exquisite dining in the world. Every dinner with Seabourn is yet another occasion to savor some of life's finest precious moments around the table.

There is no excerpt because this is a protected post.
Read More »